What Makes SERVPRO Different and How Can They Help You?
5/5/2022 (Permalink)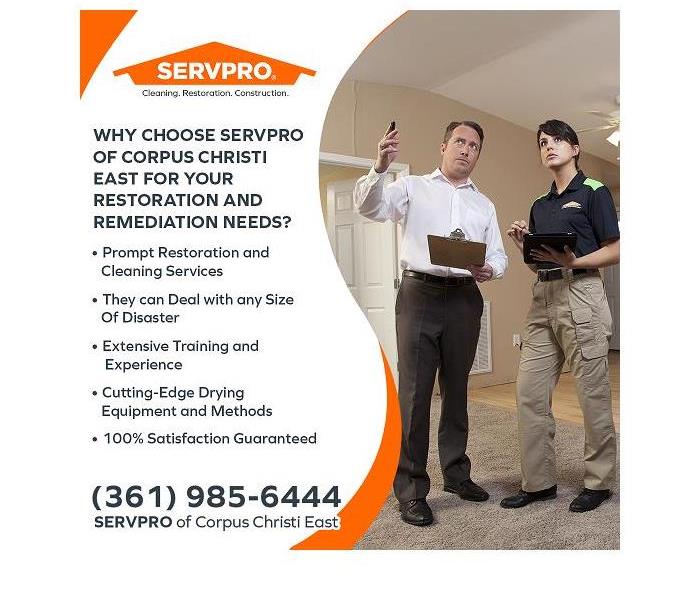 Blog Summary: SERVPRO of South Side Corpus Christi explains how its various services can help homeowners and businesses.
SERVPRO of Corpus Christi East is a name you can trust when it comes to cleaning, fire, and water damage restoration in the South Side, Corpus Christi, TX. They have a team of highly trained professionals available 24/7 to meet your water and fire damage restoration needs. They'll respond to your emergency with the latest equipment that ensures proper cleaning and drying to restore your home and property to their original state.
SERVPRO of Corpus Christi East is here to help you in both catastrophic and non-catastrophic occurrences. They specialize in:
Water Damage Restoration
SERVPRO is a leading water damage restoration company in Corpus Christi East and has been servicing the area for years. They carry out their water damage restoration and drying tasks using cutting-edge technology assisting in the elimination of any remaining moisture.
Storm Damage
SERVPRO of Corpus Christi East is available 24 hours a day, 7 days a week to assist with flood and storm damage emergencies. When a storm hits your home or your business becomes flooded, you want prompt help to clean and restore the house. The SERVPRO of Corpus Christi East team will show up on your doorstep as soon as possible after your call to help you clean and restore your property.
Fire Damage Restoration
Fire damage is another major risk homeowners and businesses face. SERVPRO of Corpus Christi East offers effective cleaning and restoration services after a fire. They will clean and restore parts of your home or business, as well as properties that have been affected by smoke and heat. They'll also clean up items impacted during firefighting efforts and more.
Mold Restoration
Mold can have health effects. Mold can spread throughout your Corpus Christi East home or company in as little as 48 hours. SERVPRO can evaluate your house or business for mold, and if mold is discovered, they'll work to eliminate it and restore that part of your property.
Commercial Restoration Services
It's critical to keep your Corpus Christi East business looking and feeling nice so that both clients and staff feel at ease. SERVPRO of Corpus Christi East recognizes that every second your business isn't running costs you money and reduces efficiency.
So, they are always ready to respond to any disaster or cleaning service your company may require. They'll restore water-damaged properties to make it look "Like it never even happened," and ensure your business looks its best.
Why Choose SERVPRO of Corpus Christi East for Your Restoration and Remediation Needs?
Prompt Restoration and Cleaning Services
When your home or business is hit with water damage, you want it taken care of quickly to reduce the impact of the water. SERVPRO of Corpus Christi East offers 24-hour services. Their team is always available to meet your water restoration needs and make your property habitable again.
They can Deal with any Size Of Disaster
You can rely on SERVPRO of Corpus Christi East to provide professional cleaning and restoration services for you regardless of the size of the damage. They'll tell you whether it's only a room impacted or a series of businesses.
Extensive Training and Experience
SERVPRO of Corpus Christi East has a team of restoration professionals with the requisite experience, expertise, and equipment to dry your home or commercial space fast and thoroughly. They follow scientific drying procedures and provide proof that your property is dry.
Cutting-Edge Drying Equipment and Methods
SERVPRO of Corpus Christi East has specialized equipment and products required to properly restore your house after a water damage catastrophe. This innovative equipment allows them to swiftly and effectively remove water, including concealed moisture, from all parts of your home or commercial space.
Satisfaction Guarantee
SERVPRO of Corpus Christi East is dedicated to your satisfaction. They'll work with you to leave your home or business in excellent shape, helping to ensure elimination of any sign of water damage.
Contact SERVPRO of Corpus Christi East today at (361) 985-6444 to speak to a restoration professional in South Side Corpus Christi, TX.