Can Hardwood Floors Be Restored After Corpus Christi Water Damage?
8/20/2021 (Permalink)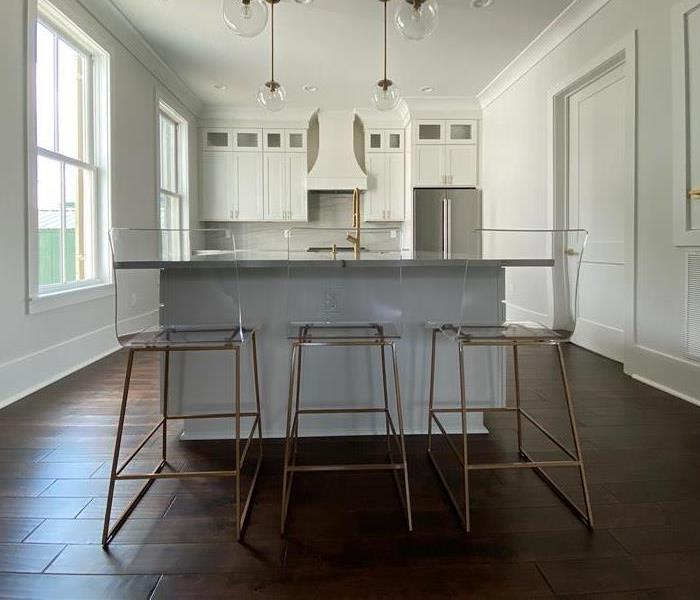 SERVPRO Delivers All Types of Wet Flooring Mitigation and Remediation Options
When your beautiful hardwood floors flood after a plumbing leak, appliance malfunction, or storm event in Corpus Christi, you might fear that tear-out and replacement is the only solution. Our Institute of Inspection, Cleaning and Restoration Certification (IICRC)-trained managers and technicians have learned many strategies to remove water and dry the hardwood carefully, often resulting in a return to the previous condition over the whole or most of the floor.
What Procedures Do Professional Water Restorers Follow with Wet Hardwood?
Genuine hardwood flooring is more resilient than you might think. Its natural resistance to moisture makes it a great type of flooring to be able to be salvaged.
Our Corpus Christi East SERVPRO crews will:
Assess for hazards
Adjust the conditions to proceed safely
Remove standing water with pumps and extractors, assisted by squeegees.
Use negative pressure moisture suction methods such as floor mats to pull water from several layers.
Consider removing some strips or planks to gain access for water removal and drying.
Use moisture detectors and meters (both in the damaged area and in an affected space) to determine the damage's extent and help set drying goals.
Devise and implement a drying plan
We understand how stressful it is to have your home have water damage. Have the confidence that SERVPRO of Corpus Christi East can return your hardwood floors and home to its original condition. Call us at (361) 985-6444 any time of the day or night.